Rookies Classes
Introduction to softball/baseball through fun and engaging activities for girls and boys.  Players build coordination, socialization skills and baseball FUNdamentals in a nurturing environment that's sure to inspire the love of the game!
We run classes year-round, 5 seasons each year.  Classes are coed unless otherwise stated on the schedule.  Must join for the remainder of the season when joining after the season start date---we prorate for the remainder of the season.
Upcoming Season:
Winter Classes:
Weekdays start Nov. 18
Weekends start Dec. 7
no classes on Nov. 25-Dec 1, and for Winter Break from Dec. 23 to Jan. 5.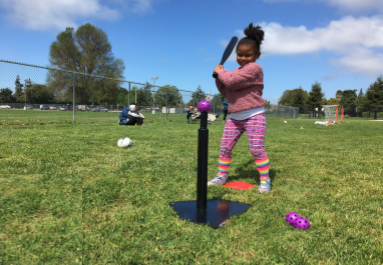 Class Descriptions
Give your child a big lead in softball through the most fun & instructional classes in the Bay Area!
Players learn to follow direction, build coordination, follow direction, socialize with coach and other players, bond with parent, and have fun.
Parent participation will be required in the first class, then as needed through the season.
Players focus on skill development and learning the rules of the game.  Players train with t-balls, tennis balls and whiffle balls.
Players learn basic baseball coordination skills, base running, and general game understanding.  Players learn to use their baseball glove in fun and non-competitive environment.
Players learn fielding, hitting, and base running skills to prepare for little league.  Players are introduced to coach pitch at the end of the season.
Softball Academy
Girls Ages 6-10
Coming Fall 2019
Private Lessons Available Now!
Customize your class day, time, field or private group:
Have at least 4 friends that want to open a class at a specific day and time?  Do you have well maintained grass space measuring at least 60 ft 50 ft where you'd like to open classes for your organization?