Bubble Pod In-Person Private Group Lessons. Now Running!
Get your friends together in a bubble pod and book private group lessons with a professional coach. Call 510 529-1059 to schedule and coordinate your dates, times, location and roster. Locations can be at your yard, a park or location near you. You can choose the location in the East Bay. Prices vary according to amount of players. It's $120 per plus Active Network fee for 55 minutes for 4 players, and $25 for each additional player up to 14. Must book at least 3 lessons over 3 weeks. The price is set in Active Network for the total amount for up to 4 kids plus the Active Network fee, so just contact us to split the payment among your players. Coach will wear a mask. Everyone must wear a mask. Parents will decide if players will socially distance from each other
We will follow the CA State and Alameda County Health Department guidelines which means we will make updates as recommended and required.
EQUIPMENT NEEDED:
Players wear a mask, bring a water bottle, and bring the proper personal equipment for the lesson:
Baseball & Softball: must bring a glove, bat, helmet, batting gloves, and hat. Boys must wear an athletic cup. For outdoor lessons, must wear baseball cleats.
Soccer: must bring a ball, wear cleats or turf shoes, and soccer shin guards. Goalkeepers must bring their own goalkeeper gloves, and we recommend padded shirt and padded shorts.
Learn to Inline Skate: must wear inline hockey padded shorts. Loaner gear will not be provided due to Covid 19 guidelines. Players will need a helmet (skating, bike, or ski helmet), elbow pads and knee pads. Wrist guards are recommended.
Inline Hockey: must wear inline hockey padded shorts. Loaner gear will not be provided due to Covid19 guidelines. Players will need inline hockey skates, hockey gloves, hockey shin guards and elbow pads, hockey helmet with a face cage, and hockey stick and a puck.
Basketball: Must bring a basketball and comfortable athletic shoes.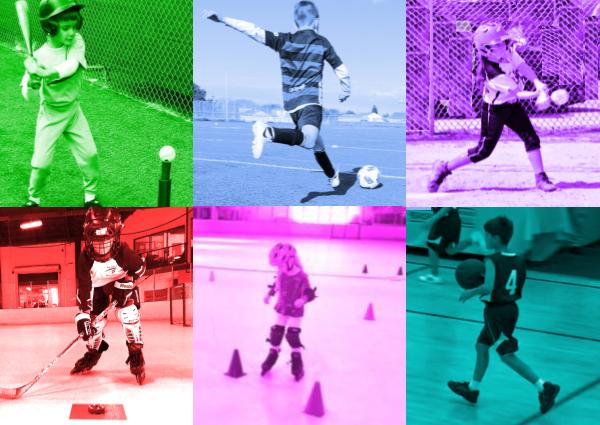 Email Jen to customize your group's Bubble Pod dates, time, location and roster to determine price: jen (at) onevillagesports (dot) com