Scrimmage Games with Warm-Up Lesson
Players need time to just play! Here's their chance to get out and play, to be creative and try out the skills they've learned on our classes on other days. Our instructor will run a warm-up lesson for the first 15 minutes of each session, focusing on a new topic each week (dribbling, passing & receiving, soccer moves, shooting, etc.). Then the instructor will run two 15-18 minute halves of a scrimmage game for the group. The instructor will referee the game---giving instruction as needed to both teams. The group will be split up differently each week into 4v4, 5v5, 6v6 or 7v7 depending on the amount of players in attendance. This is best for players who have attended classes in the past, or who are currently attending classes. New players should attend a season of classes prior to joining these scrimmage sessions. Pinnies (scrimmage jersey) will be provided each week to players for the scrimmage game.
We run 5 seasons each year.  Must join for the remainder of the season when joining after the season start date---we prorate for the remainder of the season!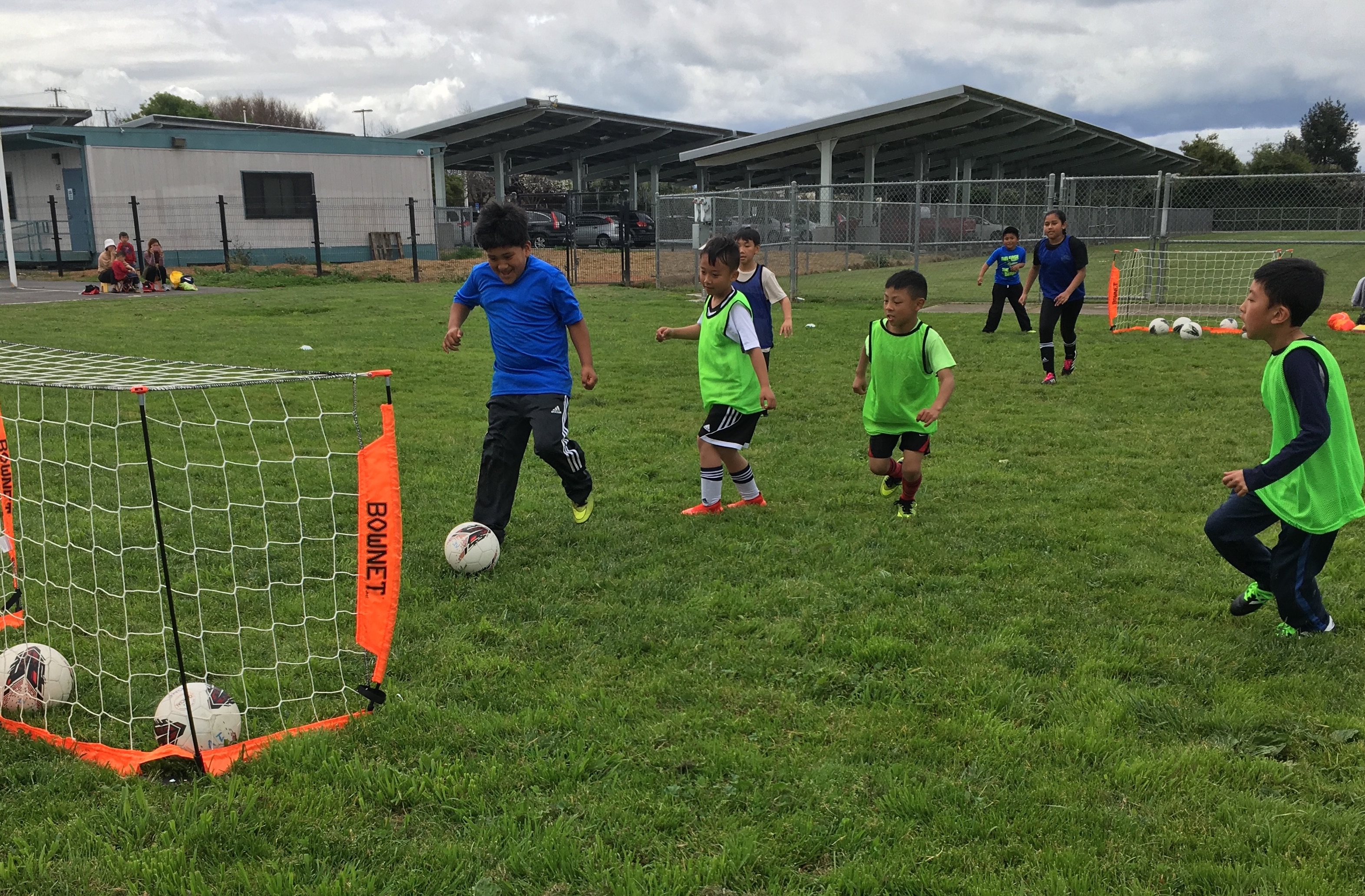 Oakland Hills
Location:  12000 Campus Dr., Oakland.  On the Future Stars Baseball Turf near the East Hills Church
Get a 40% off coupon for same Summer season Scrimmage Games when registered for Summer Classes or Camp.  Register for a Summer class or Camp, then use coupon code: SUMMERGAMES23 for the discount on games.
Summer:    June 4 - July 23 (No games on 7/2) - Register
Sundays

Buys & Girls Ages 4-5 - 2:10pm (50 mins)
Boys & Girls Ages 6-8 - 3pm (55 mins)
Boys & Girls Ages 9-12 - 4pm (55 mins)
Adult Beginner Soccer Class - 5pm (55 mins)

Tuesdays June 6 - July 25 (No game on 7/4)

Boys Ages 11-14 - 7:30pm (55 mins)
Adult COED Recreational/Beginner Class with 20 minute scrimmage at the end of class - June 4 - July 23 (No games on 7/2)
Adults - Sundays - 5:00pm (55 mins)
Youth Tournaments
In addition to games, we'll be inviting players to join us for one-day recreational in-house tournaments starting this Fall.  And, more competitive players will be chosen to compete in local Bay Area Tournaments with our teams.  If you'd like your child to be included for these tournament invites, please contact us.  There are additional fees for these activities that are calculated depending on amount of players and tournament fees.  Volunteers are welcome, and will receive discounts accordingly.  Sponsorships are welcome.
Next Steps...
Get your free player assessment.
*One Free Trial class per player.  No free trials in the Games, Goalkeeping, Futsal Classes or Camps.